Check out these online astronomy events taking place in 2022
To register for these fascinating talks please click on the links below.
We will regularly update this page as details of more events become available.
Members will also continue to receive email invitations to join our SWHAS monthly meetings.
May 2022
FAS Megaconstellation Webinar
Saturday 7th – Sunday 8th May 2022
20:00 – 22:00 GMT
Organised by the Federation of Astronomical Societies (FAS)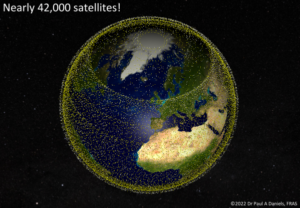 The Challenge of Megaconstellations – a free two day international Zoom webinar.
There will be 21 talks of 25 minutes each given by 21 speakers from Australia, Canada, Chile, Germany and the UK and USA.
The level is aimed at the interested amateur up to early-career post-doctorate researcher so is specifically for those who will be doing astronomy over the next couple of decades to be prepared for the challenge of LEO satellite megaconstellations.
For free registration, members can go to the FAS website and follow the links (or click on this link) to see the megaconstellation page. At the foot of that page click on the link to the Zoom webinar registration page; you just need to provide your name and a confirmed email address and click on the blue 'Register' button and Zoom will send you the joining link which works for both days.
Please note, there's a limit of 500 on bookings but this may be used up quickly once the event is advertised to non-FAS members.
The Crowd and the Cosmos
By Chris Lintott (Astronomer and BBC Sky at Night presenter)
Tuesday 10th May 2022
20:00 – 22:00 GMT
FREE "in person" talk at The Chalfont St Giles Memorial Hall
Organised by the Chalfont St Giles & Jordans Literary Festival 2022
Astronomer Chris Lintott explains how you could help astronomers sort through galaxies, explore the surface of Mars, or even discover a planet. This is the story of the Zooniverse, which has enlisted more than two million people in the search for cosmic truth. Using stories drawn from contemporary research, this talk describes their discoveries – including the most mysterious star in the Milky Way – and argues that the search for the truly unusual could rely on you.
This a FREE event and any of our members who would like to come are welcome.
As space is limited in the hall you have to make sure you book tickets from: https://www.chalfontstgilesliteraryfestival.org.uk/speakers
Make sure you add the tickets to your basket and complete checkout. You "buy" them for £0.00, so it costs nothing, but as space is limited in the hall you have to make sure to book the tickets.

SWHAS MEMBERS MONTHLY MEETING
Friday 27 May 2022
20:00 – 22:00 GMT
Members Images and AGM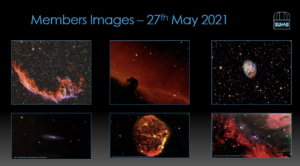 Our members' images meeting is a chance to showcase your own astro images, no matter what the level of expertise. Remember that even the best imagers started with the basics – it all about sharing the experience and learning.
Please submit your images to chairman@swhas.org before Wednesday 25th May 2022.
Annual General Meeting (AGM)
This is an important part of the society annual activities as it is your chance to elect the committee you want, have your say and influence the direction of the society.
A report of the society's finances will also be presented along with a summary of the activities carried out by the society over the past year.
The meeting will also include a news item of interest and a tour of the night sky.
We're pleased to confirm that this will be a face-to-face meeting at the RMS and look forward to seeing you there.
A Zoom link will also be sent out to members before the meeting if you are unable to attend in person.
New RMS meeting protocols
In order to keep everyone safe we have to adhere to the school guidelines during the COVID situation and we ask you to respect social distancing where appropriate, use good hygiene and wear face coverings whilst moving around. We will endeavour to keep the hall well ventilated at all times and this may mean some doors need to be left open.
1. We will ask you to collect your own chair from the back of the hall and take it to a place in the hall where you would like to sit. This can be either near friends/family or well away from everyone else – the choice is yours, but we encourage you to respect social distancing where appropriate. Be aware that some doors may be left open to aid better ventilation, so bear this in mind when you choose a seating location. It might be advisable to wear layers ! Sanitising wipes will be provided when you collect your chair for you to wipe down your seat.
2. In addition to the school cleaning regime, we will, prior to the meeting, wipe down all accessible surfaces including the handrails, door handles and toilets.
3. All beverages will be dispensed in paper cups and consumables (such as sugar, UHT milk and biscuits) will be supplied as individually sealed packs. After use, please dispose of these items in the rubbish bags provided.
4. After the talk is over, please return your chair to the back of the hall where it will be wiped down and stacked away.
5. For the time being, we will not be holding planetarium visits – because the space in there is too confined to safely ventilate it. Instead Richard will do a summary of the upcoming night sky in the hall.
Members will be advised of the RMS gate code nearer the date of the meeting.
We are in discussion with the school to see if we can use their internet to live stream the meetings to those who cannot attend, but no firm decision has been reached at this time – we will keep you informed if it is likely to happen.
Keep safe and we look forward to seeing you.