2018 Exhibition at Watersmeet Rickmansworth
9 Oct – 3 Nov 2018

As part of our 50th Anniversary activities we had a 3 week exhibition at the Watersmeet Centre in Rickmansworth,
culminating in a final Family Day on 3rd Nov. 2018.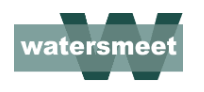 The event was very kindly publicised by the Watersmeet team by producing two special postcards of selected member's images.
The exhibition consisted of our some static items on display including models of A Saturn V Moon Rocket, A Space Shuttle, A Skylon Rocket Ship and our 10 display posters covering Space and Astronomy over the last 50 years since our society was formed.
We had NASA's Moon Rocks on display as well as collection of Meteorites
On the final family day we had Virtual Reality headsets allowing visitors to explore the night sky or make an EVA (space walk) outside the ISS (International Space Station).
Prizes were awarded to special guests !