2019 Astrophotography Workshops in The Park
January & February 2019
In January and February we started collaborating with local photographer Andrew Lalchan (renowned for his light painting classes in Cassiobury Park) to offer prospective amateur photographers an opportunity to turn their cameras to the night sky in Cassiobury Park and introduce them to the basics of astrophotography.
The events were organised through 'Meetup.com'.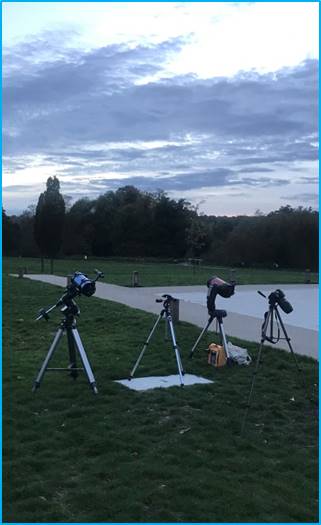 The groups were limited in size to allow access the telescopes provided by the SWHAS.
Various members of the society were on hand to guide the budding photographers on some of the more interesting objects visible in the winter night sky that were suitable for capturing on a standalone DSLR or with it attached to one of our scopes.
The sessions were very successful and prompted us to hold further sessions in 2019 & 2020.
For further information about Andrew Lalchan and his sessions head to https://blog.andrewlalchan.co.uk/