Check out these online astronomy events taking place in 2021
To register for these fascinating talks please click on the links below.
We will regularly update this page as details of more events become available.
Members will also continue to receive email invitations to join our SWHAS monthly meetings.
NOVEMBER 2021
Extreme Stellar Environments – Free Zoom Event
Hosted by Bath Bristol and Cardiff Astronomical Societies
Saturday 13 November 2021
13:30 – 17:30 GMT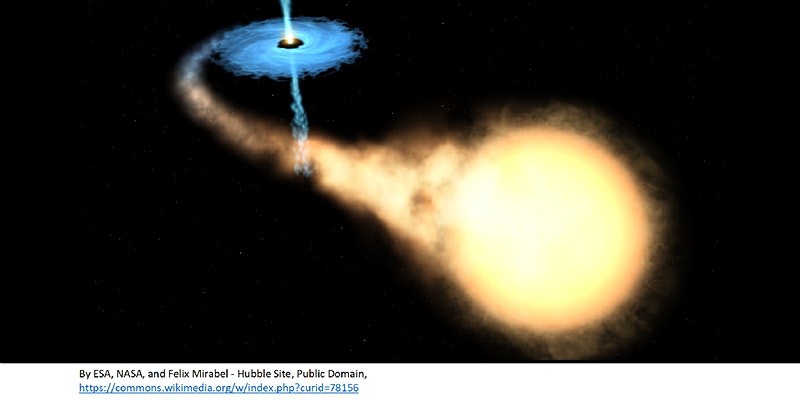 An afternoon of "Extreme Stellar Environments" is yours on the afternoon of Saturday 13th November comprising 4 online talks on this theme from respected astronomy professionals focussing on their specific interests from supernovae, neutron stars, zombie stars to black holes. Guiding us through this journey of cataclysm and atom wrenching adventure is Dr Robert Massey, Deputy Executive Director of the Royal Astronomical Society.
Organised jointly by Bath Astronomers, Bristol Astronomical Society, and Cardiff Astronomical Society, this free Zoom event runs from 1:30pm to 5:30pm and is open to all. It just requires you to register your place in advance to avoid the disappointment of your name not being down.
To secure your spot simply visit:
https://www.eventbrite.co.uk/e/extreme-stellar-environments-tickets-169977235487
The talks are as follows:
Supernovae by Dr Philip Wiseman, Southampton University
Supernovae are the explosive ends to stars' lives and are some of the most powerful and energetic events in the Universe. Despite having been observed by humans at least as long ago as the 11th Century, it is only in the last few decades that we have begun to discover the true diversity of stellar deaths that pervade the night sky. In this talk I will outline the different routes to forming a supernova and how those differences change their appearance. I'll describe the process of observing supernovae on a mass scale, and will highlight how this has led to some of the strangest and unexplained phenomena still puzzling astronomers today.
Stellar Black holes by Dr Vivien Raymond, Cardiff University
Black holes are some of the strangest, most puzzling objects in the Universe. They deform space and time to extremes, and for the longest time could only be observed indirectly via their effect on their environment. However, we are now capable of listening to the very space-time deformation they produce. In this talk I will present how we study those invisible objects with gravitational-wave observatories, and what we can learn from them.
How we study neutron stars by Dr Diego Alamarino, Southampton University
Neutron Stars are the most compact objects in the Universe where we can still see a surface. They are tiny 30km diameter spheres lost in the immense sky. So how is it that astronomers are able to study them? In this talk I will summarize some of the techniques used to study those Neutron Stars that interact with their nearby environments
The extreme physics of zombie stars by Professor Nils Andersson, Southampton University
A neutron star is born when a massive star runs out of nuclear fuel and dies in a supernova explosion. The object that emerges when the dust settles – effectively a zombie star – involves physics at the extremes of our understanding (and beyond). In this talk, I will explain how we are using astrophysical observations (both electromagnetic and through gravitational waves) to explore this physics and make progress on a range of challenging questions.

SWHAS MEMBERS MONTHLY MEETING
Friday 26 November 2021
20:00 – 22:00 GMT
Dunsink Observatory
By Prof Peter Gallagher FRAS, Director of the Observatory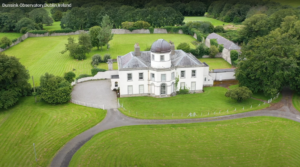 Prof. Gallagher, the current Director of Dunsink, will be our host and guide, giving us a personal tour of the observatory and will talk about the significant contributions it has made to science and mathematics over the years.
The observatory was founded in 1785 and South Dome houses the famous 12" Grubb refractor.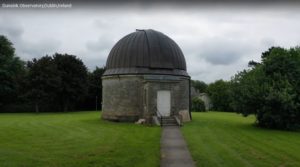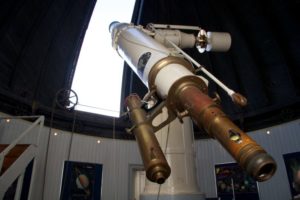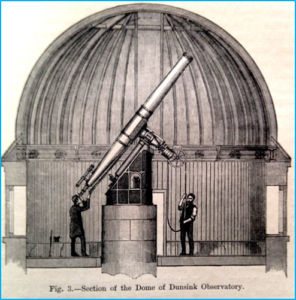 The meeting will also include a news item of interest and a tour of the night sky.
This will be a face-to-face meeting at the RMS. We look forward to seeing you there!
A Zoom link will be sent out before the meeting for any members who prefer not to come in person.
New meeting protocols
In order to keep everyone safe we have to adhere to the school guidelines during the COVID situation and we ask you to respect social distancing where appropriate, use good hygiene and wear face coverings whilst moving around. We will endeavour to keep the hall well ventilated at all times and this may mean some doors need to be left open.
1. We will ask you to collect your own chair from the back of the hall and take it to a place in the hall where you would like to sit. This can be either near friends/family or well away from everyone else – the choice is yours, but we encourage you to respect social distancing where appropriate. Be aware that some doors may be left open to aid better ventilation, so bear this in mind when you choose a seating location. It might be advisable to wear layers ! Sanitising wipes will be provided when you collect your chair for you to wipe down your seat.
2. In addition to the school cleaning regime, we will, prior to the meeting, wipe down all accessible surfaces including the handrails, door handles and toilets.
3. All beverages will be dispensed in paper cups and consumables (such as sugar, UHT milk and biscuits) will be supplied as individually sealed packs. After use, please dispose of these items in the rubbish bags provided.
4. After the talk is over, please return your chair to the back of the hall where it will be wiped down and stacked away.
5. For the time being, we will not be holding planetarium visits – because the space in there is too confined to safely ventilate it. Instead Richard will do a summary of the upcoming night sky in the hall.
Members will be advised of the RMS gate code nearer the date of the meeting.
We are in discussion with the school to see if we can use their internet to live stream the meetings to those who cannot attend, but no firm decision has been reached at this time – we will keep you informed if it is likely to happen.
Keep safe and we look forward to seeing you.