The JUICE Mission: Revealing the mysteries of Jupiter's icy moons
May 25 @ 5:00 pm

-

7:00 pm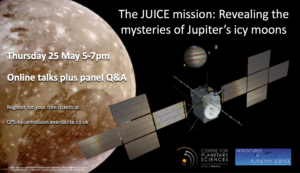 The Centre for Planetary Sciences at UCL/Birkbeck is delighted to announce the third event in their Adventures in Planetary Science public engagement series 'The JUICE mission: Revealing the mysteries of Jupiter's icy moons', taking place on Thursday 25th May 2023, starting at 5pm. This will be a virtual event held online with Zoom.
ESA's Jupiter Icy Moons Explorer mission – JUICE – successfully launched on 14th April and is now on its way to make detailed observations of the giant gas planet and its three largest moons, Ganymede, Callisto and Europa all of which are believed to be harbouring subsurface oceans. But what is the mission hoping to discover? What secrets lie beneath the icy surface of Jupiter's moons? Could they hold the conditions for life?
The event will feature talks from our panel of JUICE and astrobiology experts – Geraint Jones (UCL-MSSL), Nick Achilleos (UCL-P&A) and Grace Richards (OU) – followed by Q&A with the audience. Andrew Rushby (Birkbeck) will be our host for the evening.
To register for your free tickets on Eventbrite please visit: https://www.eventbrite.co.uk/e/the-juice-mission-revealing-the-mysteries-of-jupiters-icy-moons-tickets-625291392387
For further information about the event please see the event webpage: https://www.ucl.ac.uk/planetary-sciences/events/2023/may/adventures-planetary-science-juice-mission-revealing-mysteries-jupiters-icy-moons