Like to join us / visit us?
Joining us
Anyone interested in astronomy in any form is welcome to join our society. You do not need to be an expert - our membership covers all levels of expertise, from raw beginners to very experienced observers. All are welcome. A number of our members are expert astro-photographers and a number of their images are shown in the image pages on the website (see 'images' link in menu). Our knowledgeable members are always willing to give advice to those less experienced. To enquire about joining, please send an email to the
membership secretary
Alternatively you can now join us online via MemberMojo.Join SWHAS online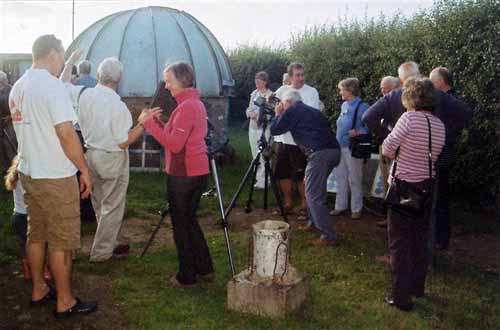 Members and visitors attend a Summer event at High Top
We normally hold an open evening at our High Top observatory, where members, families and friends can meet local residents from Flaunden.
In 2011 this was a 'Solar viewing event' when we had the use of three telescopes specially designed for observing the sun. The weather wasn't perfect, with a good deal of cloud, but we did manage to observe several sunspots and prominences.
Visiting us
You are welcome to come to one of our meetings as a visitor. To defray costs, we make a charge of £3.00 per visitor - this is refundable if you decide to become a member. Due to security reasons we are obliged to ask for some personal details (required by the Masonic School) - see note on the contact us page.